Vanpool
MichiVan Commuter Vanpool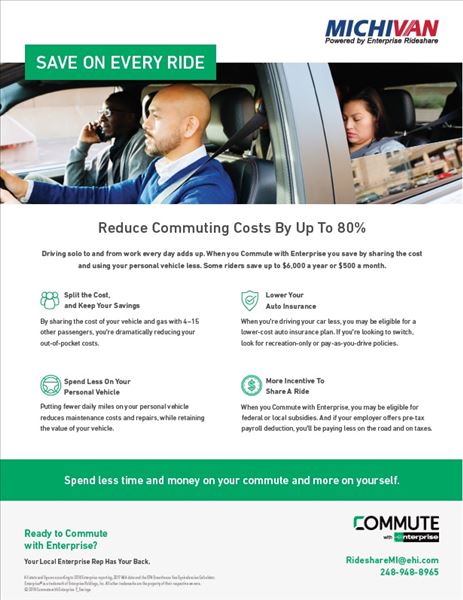 Look Forward To A Better Commute
Riding together adds up to more savings, less pollution and valuable time back in your day. Enterprise makes it easy–helping you assemble your crew and providing the vehicle.
MichiVan, sponsored by the Michigan Department of Transportation and operated by Enterprise Rideshare, supplies fully insured passenger vans to commuter groups. Under this program:

4 to 15 commuters share a van along an established route
Riders pay a monthly fee as low (Based on their daily round trip/monthly commute mileage and the size of van)
The MichiVan operator, currently Enterprise Rideshare, provides the vehicle and pays for the maintenance/repairs, insurance, titling, and licensing
A vanpool group usually meets at a centralized location(Ex: Shopping mall, grocery store or carpool lot)
A free ride home for unexpected emergencies​, program rules and guidelines apply


The vanpool program is open to individuals of the public. The MichiVan operator also helps employers develop vanpools and ride-sharing programs.
Form or Join a Vanpool
This page last updated on 4/15/2020.