Schoolpool Registration
Getting to School Just Got Better!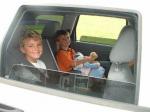 SchoolPool is an online ride-matching system and resource tool designed to assist in the creation of carpools. Modeled after the successful Michigan Rideshare Program, School Pool will connect parents with other families in order to share commuting needs. Not only will time be saved in the morning rush but participants will be reducing greenhouse gas emissions by decreasing trips to and from school, as well as reducing school-based traffic congestion (a solution that will ease both stress from parents driving to school as well as neighbors bothered by school congestion).
SchoolPool Registration
Each school has its own SchoolPool page. To start, please select your school from one of the lists below, from there you will be redirected to our partner site, Carpool World. The registration page will appear in a popup window, please temporarily disable your popup blocker. Schools are listed by county: Berrien, Cass and Van Buren.
If you live in Berrien County:
If you live in Cass County:
If you live in Van Buren County:
This page last updated on 3/13/2018.