Carpool Tips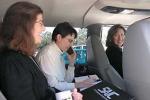 Changing from a solo commute to a ridesharing arrangement may require some adjustment and compromise. However, rest assured, the adjustment is easy and well worth it, especially when you follow our Pooling Pointers. These are some great tips to help you create and maintain a successful carpool or vanpool.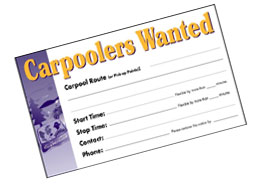 Set pick-up and drop-off times
Decide how long the pool will wait for latecomers
Make sure all drivers are insured
Decide whether food or drink will be allowed in the vehicle
Decide if smoking will be allowed
Will the radio be on? If so, what station does everyone like
Buckle up! Seatbelts are the law and really do save lives
Establish an emergency call chain. In the event of an emergency, you should have an assigned order for contacting each other.
Give notice of vacation plans or schedule changes
Give everyone a chance to have his or her say
Decide on driver reimbursement if you are not sharing driving equally.
Get to work or school on time!
We encourage carpool riders to practice good hygiene through the following steps:
• Always cover coughs or sneezes with a tissue or sleeve.
• Avoid close contact with people who may be sick.
• Avoid touching your eyes, nose, and mouth with unwashed hands.
• Wash your hands often with soap and warm water for at least 20 seconds. Use an alcohol-based hand sanitizer with at least 60% alcohol if soap and warm water are not available.
• Clean and disinfect frequently touched objects and surfaces (computers, keyboards, desks, etc.).
For ways to improve your gas mileage, click here!
This page last updated on 4/2/2020.