Walk & Bike Groups
Walk & Bike Groups
A walking or bicycling "bus" is a group of students who travel together along a designated route to school, pausing at pre-arranged "stops" to allow other students to join the group. Parent volunteers may accompany the group if appropriate. Traveling together is a great way for students to walk or bike safely while being more physically active and enjoying the fun of a group.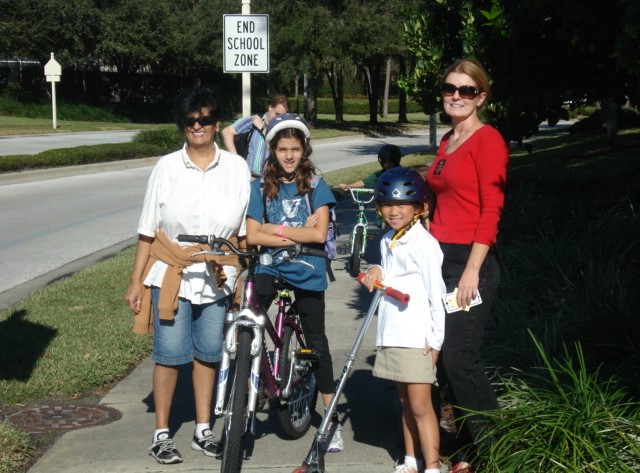 We can help you find others to join in a group with your student. We also can help you select a good route to school and create a map for participants.
For places to walk and bike in Berrien County, MI. Visit: www.behealthyberrien.org/be-active/

Cycle-Re-Cycle Southwest Michigan is a not-for-profit bicycle shop and organization located in Benton Harbor, MI.
Cycle-Re-Cycle diverts used and discarded bicycles from landfills and refurbishes them. A volunteer run organization which draws people from every walk of life to promote cycling as a healthy and environmentally responsible form of transportation. The volunteers include those from both low and upper incomes with a common interest, the love of bicycling.
Click here to view Cycle-Re-Cycle's website!
Need some information to promote Walking as the way to get to school?
Click here for some information you can share.
Tips for a Successful Walking or Bicycling Group
Guides should wear a safety vest. Students should wear high-visibility clothing, proper footwear, consider bringing a water bottle, and carry adequate rain gear and clothing for inclement weather. Also, consider carrying safety lights.
Plan a pedestrian- or bike-friendly route to school. Pause at pre-planned "stops" to add participating students to your group as you travel. Contact Rideshare at 269-925-1137 ext. 1518 or gallagherk@swmpc.org if you would like help with choosing a route and preparing maps.
Always follow pedestrian or bicycling rules and safety guidelines. Cross streets using marked pedestrian areas or bicycle lanes whenever possible.
Maintain a schedule that allows a margin of time. Plan in advance how changes to the usual routine will be handled. Organize a "phone tree" list so last-minute changes can be communicated quickly to your group.
Establish group ground rules that could include:
• Children should be ready and waiting.
• Decide who will be at the end of the group, making sure the group stays together.
Have fun! You could name your group, decorate your backpacks or bicycles, and do something fun with your group's families from time to time.
This page last updated on 3/2/2023.