Home > Public Transit > Find a Provider > Berrien Bus
Berrien Bus
Berrien Bus services the entire county of Berrien. With 24 hour advance reservations, either individuals or groups may use the bus for shopping trips, visiting friends, medical, dental and other appointments. Berrien Bus coordinates its service with the transit systems in Benton Harbor/St. Joseph, Niles and Buchanan.

Access information on curb-to-curb services, subscription trips, fares and schedules click here to view the brochure!
Phone: 269.471.1100
---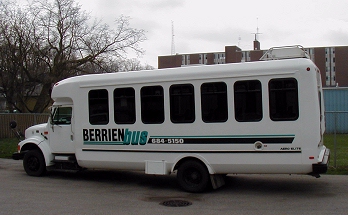 NEWS: Local Advisory Council
Friday, Jan. 12 at 10 am
Berrien County Adm. Building
701 Main St. St. Joseph MI Rm 4C
Everyone is invited.
Sorry, no Articles are available.
This website is made possible through a Federal Transit Administration 5317 grant and the Michigan Department of Passenger Transportation.  It is managed by the Southwest Michigan Planning Commission who is providing this database solely for informational purposes.  It disclaims all responsibilities for errors, omissions, changes, and other agency representations. SWMPC's listing of agencies does not constitute an endorsement by SWMPC of the agency, business, guarantee of availability of service, guarantee of the quality of service.  Further, SWMPC does not represent for other agencies the compliance with all legal requirements for providing services, compliance with federal, state, local and equal employment opportunity and anti-discrimination laws and acknowledgment of good standing with appropriate licensing authorities, if any. SWMPC further disclaims liability for such compliance and licensing requirements.