Student Free & Reduced Transportation Options
Discover discounted prices on fares, punch card tickets,and other popular travel needs, some with specific services to meet your travel needs and find low cost travel options.
Lake Michigan College (LMC) Shuttle Service
Twin Cities Area Transportation Authority
(TCATA) furnishes bus service to and from the Napier Avenue Campus on a regularly scheduled basis during the fall and winter semesters, with pick-up and drop-off in front of the main campus building near the first floor lobby area.
Hours the shuttle will arrive at LMC are Monday- Friday at 8am, 10am, 12pm, 3pm, 6pm and 9:30pm (except on Fridays).
During the summer, bus rides are only provided on an "On Demand" basis.
How to Schedule Your Ride
Students must make arrangements with TCATA to go to and from campus on a per call basis during the spring and summer semesters. To arrange to be picked up from your home and dropped off at Lake Michigan College, please call (269) 927-4461 at least 1 hour before the arranged arrival times as listed above.
LMC Student Discounts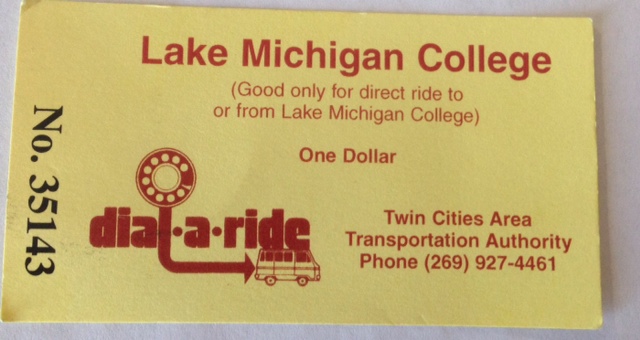 Cost for transportation to and from Benton Harbor is $1.00 The cost to and from Benton Township, St. Joseph, and St. Joseph Township is $1.25.
Tickets may be purchased at the Napier campus Cashier's Office, room 207.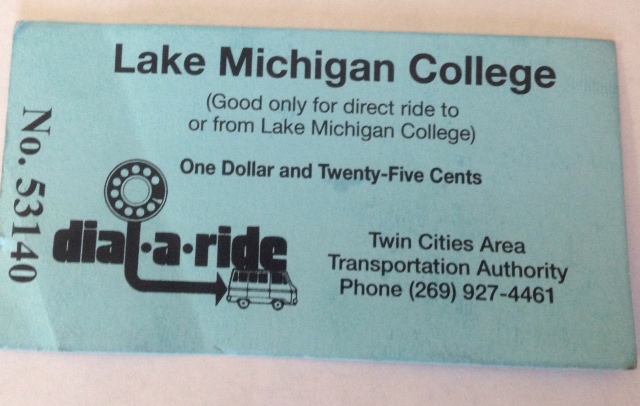 Punchcards
Receive a discount when you purchase a punch card that can be used for Dial-A-Ride trips and the Fixed Routes (Red and Blue routes).
Cards can be purchased Monday - Friday from 8am to 5pm at TCATA headquarters located at 275 E. Wall Street in Downtown Benton Harbor.

$22.50 Regular ($25.00 value) $13.50 Seniors and individuals with disabilities ($15.00 value)
This page last updated on 4/4/2018.